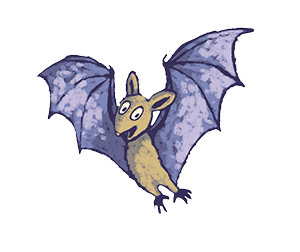 Welcome to my diary! I am Ciara. I am a two year old bat. In winter I hibernate in a cool quiet place because I cannot find enough insects to eat. In spring I move into a warm roost with my colony.
My favourite place is a big attic where we go every year. I have a baby in the summer. I feed my baby milk until it is big enough fly by itself and find insects to eat. In the autumn I leave the attic and find a cooler place to spend the winter. Click on a season below to find out what I do all year round!
Bats are mammals – they have fur, they are warm blooded, they give birth to live babies and feed their babies milk
After you have read Ciara's story, use this worksheet for follow-up questions.